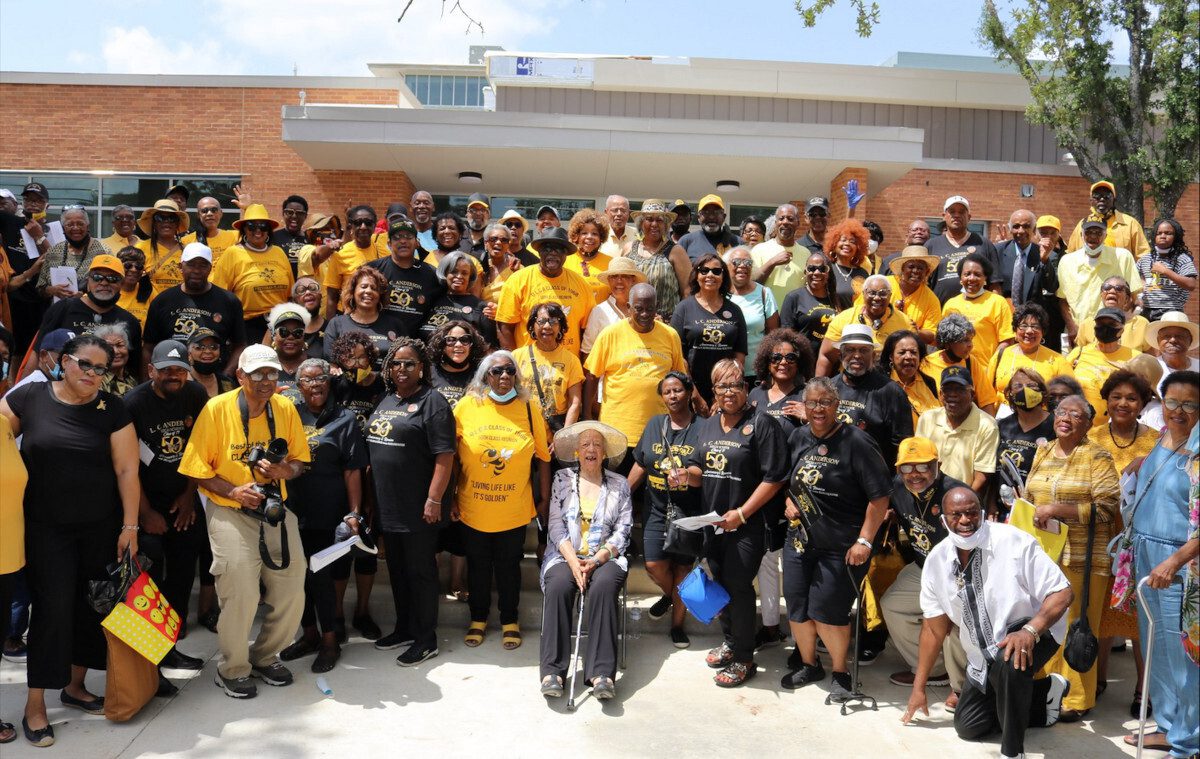 On July 17, members of the original L.C. Anderson High School alumni traveled from near and far to commemorate the last location of Austin's only Black public high school. Joined by U.S. Congressman Lloyd Doggett, Mayor Steve Adler, AISD leadership and community members, the alumni shared nostalgic memories of their high school years as they unveiled the historical marker at the site of the new Eastside Early College High School.
The event, which was held in-person and livestreamed to AISD.TV and Facebook, began with a welcome by Jo Ann Foster Lewis, class of 1968, and a prayer conducted by Rev. Dr. Jimmy Hunter, class of 1970.
Throughout the event, alumni and local leaders reflected on the history and legacy of the school. The original L.C Anderson was opened as an all-Black high school in 1889 before it was closed by the school board in 1971 following a federal district court ruling for desegregation. 
"The Yellow Jackets legacy will live on through the sands of time," said Foster Lewis. "Through this effort, a new generation will be made aware of our school's rich history, and future students that will be attending the school here will be a part of our legacy as well."
During the unveiling of the historical marker, Barbara Spears-Corbett, class of 1970, quoted Raymond James, former head of the Original L.C. Anderson Alumni Association, saying "this was the last location of an Austin public high school for African American students, and the events that had occurred in this era need to be recorded and memorialized." 
In addition to the historical marker, the alumni also presented the 2021 OLCAAA, Austin Chapter "Yellow Jacket" Legacy Scholarship. All scholarship recipients are relatives of L.C. Anderson H.S. alumni. 
After the unveiling of the historical marker, all of the alumni and event attendees came together by singing the original L.C. Anderson school song. 
To commemorate the event, the OLCAAA created and published a digital program so those at home could follow along. To view the program, please click here, or Site Dedication Program. The new Eastside Early College High School will honor and continue the legacy of L.C. Anderson through dedicated spaces featuring the school's history. 
Watch the recording of the event.
For further inquiry into Lucile Frazier's photo album can be found at the Austin History Center.
The OLCAAA can be followed on their Facebook page.